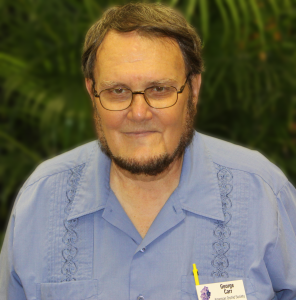 Our April Program will be presented by George Carr and is titled "The Genus Catasetum – weird and wonderful." George is an accredited American Orchid Society Judge in the Florida North Central Judging Center in Tampa, Florida and has been growing orchids for 35 years. His interest in the genus Cycnoches began in 1993 when he requested to do his research paper on the genus for his Student Judge requirement. His paper, Cycnoches – One Hundred Sixty-five Years of Confusion was completed and presented in 1995 and in 1996 the paper was awarded the first American Orchid Society Education Certificate of Appreciation. In 2003, George was named as an accepted American Orchid Society taxonomic authority on the Catasetinae specializing in Cycnoches.
George has published some 35 articles in the United States in Orchids and the Orchid Digest, Brazil, France in Richardiana, England in the Orchid Reviewand Colombia. His most recent paper on Cycnoches and hybrids of the genus was published in a supplement to the October 2012 issue of the American Orchid Society magazine Orchids.
George is retired but stays busy with his research and writings about the Catasetinae and other orchids. He has a blog on the Catasetinae, http://catasetinae5.blogspot.com, where, from time to time, he publishes articles with photographs of plants and flowers which interest him and which he hopes will interest others. We hope you will join us for this very interesting presentation.
Amazonia Orchids will provide the plant table tonight.