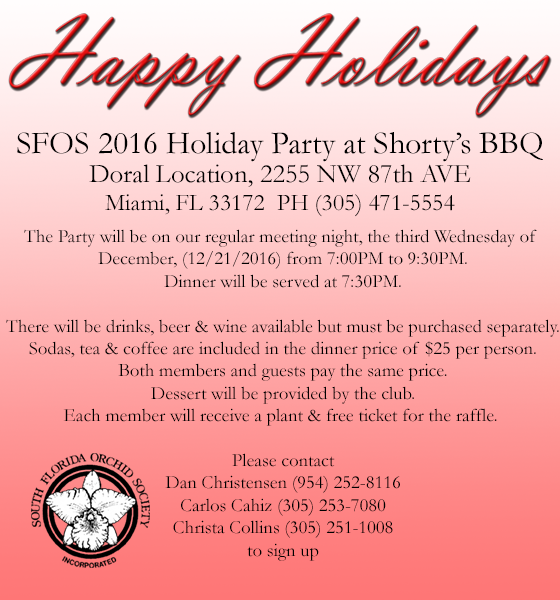 Dan Christensen: 'How to Grow Award winning vandas in South Florida'
Dan & Margie have been growing orchids first as hobbyists for over 35 years and as Commercial Growers for nearly 20 years. Dan & Margie's business name is Dan & Margie Orchids located in
West Broward just 3 miles west of I-75, approximately ¼ mile north of the intersection of Sheridan Street & 185th Way.
Dan and Margie Orchids have over 12,000 square feet of covered growing space. Currently there are five greenhouses.
The nursery specializes in growing Vanda/Ascda. Crosses, Cattleya hybrids, warm growing Oncidium, Dendrobium, and some species.
Dan & Margie Orchids is a family owned business and cater to the small grower, but is capable of handling wholesale inquiries.
The nursery sells orchids, some supplies and will assist any orchid grower with information and re-potting instruction.
The nursery is currently open by appointment Tuesday thru Sunday, 12 noon to 5 p.m.
Dan & Margie Orchids can be reached by phone, fax, or e-mail. (damorchid.com)
Dan and Margie have visited with growers in Thailand and have first have first hand experience on how to grow healthy vandaceous orchids.
Dan Christensen has been speaking on general orchid culture, Vanda culture and various subjects related to orchids for over 30 years. He uses the 'common sense' approach to growing. He has been guest lecturer at all local orchid societies. Margie runs the day-to-day business and is an accomplished pottery artist.
Together they run the business, participate in local shows from Tampa to Key West.
Dan is a member of the South Florida Orchid Society Board of Directors for over 15 years and has served as the president of SFOS for two consecutive terms. He is the SFOS Show Chairman and Treasurer of South Florida Orchid Society.
He has served as a board member of several local societies, Miramar, Gold Coast & South Florida serving in various capacities. He has also auctioneered at SFOS, North Dade, Gold Coast, Sunrise, Plantation, Coral Springs & Flamingo Orchid societies for several years.
Dan & Margie Orchids will kindly be providing plants for our raffle table and Dan will also have plants to sell!