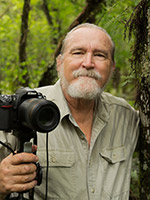 Roger Hammer will present our March program, which is titled, "Wild Orchids of Florida". Roger retired in 2010 from Miami Dade Parks Department where he was the senior naturalist. He is a part-time instructor and fieldtrip leader for Fairchild Tropical Botanical Gardens and serves on the Board of Directors for Tropical Audubon Society. Roger also has an Honorary Doctor of Science from Florida International University.
Roger was the Keynote Speaker at the 19th World Orchid Conference in 2008 and the Opening Ceremony Speaker at the 11th World Orchid Conference in 1984, both held in Miami. He was the Keynote Speaker at the 2009 Fairchild Tropical Botanic Garden annual meeting. Roger has received numerous awards including the Marjory Stoneman Douglas Award, Charles Brookfield Medal, Green Palmetto Award in Education and the Lifetime Achievement Award from the Dade Chapter- Florida Native Plant Society, Tropical Audubon Society, & Miami Blue Chapter – North American Butterfly Association.
Roger is also a prolific author and will have his books at the meeting to sell (cash or checks only). We hope you will join us for this very special program.
Please bring your friends; guests are always welcome at our meetings.
Dan & Margie Orchids will provide plants for our raffle table