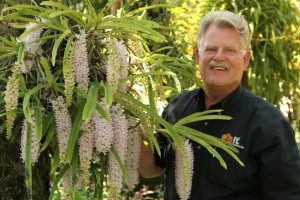 Bob's program "Kiss Your Ascocendas Goodbye" will discuss some of the recent changes in orchid nomenclature in the Vanda alliance, along with what those changes mean for some of our most familiar orchid species and hybrids. Bob is a third-generation orchid grower, and president of R.F. Orchids, Inc, in Homestead, Florida, USA.
R.F. Orchids was founded in 1970. In 1984, Bob's Vanda Deva 'Robert' AM/AOS-SM/11WOC received the Grand Champion award at the 11th World Orchid Conference, in Miami. A recognized expert on vandaceous orchids, Bob presents lectures to audiences around the world, and many prestigious publications have published his articles.
Bob is an accredited American Orchid Society Judge, past president of the South Florida Orchid Society, life member of the AOS, and was President of the 19th World Orchid Conference, in 2008.
RF Orchids will provide our raffle table this month
Remember, visitors are always welcome at our meetings!