Some Like it Hot (Brazilian Miltonias that WILL grow in the heat).
Our September 21st SFOS meeting will feature Brian Monk of Blu Llama Orchids.  Come to our new venue in Pinecrest Gardens, 11000 Red Road (57 Ave.), Pinecrest 33156, directly across from CTK church on Killian Parkway (112 St).
Doors open at 7:00, presentation starts at 8:00pm.  Brian will bring his top quality plants for sale, plus provide the plants for our evening's raffle.  Do not miss what promises to be a great presentation.
Brian Monk was born in Milton, Florida in 1969. Shortly after his birth, Brian's family moved to Charleston, West Virginia where he spent the next 18 years. As a young man, Brian's intense passion for nature led to his profession and his many hobbies including bird-watching, orchid growing and photography.
In 1992, Brian received his degree from Hampden-Sydney College in Virginia followed by a Doctorate of Veterinary Medicine from Virginia Tech in 1997. In 2005, while working as a Veterinarian in Orlando, Florida, Brian met the love of his life, Mary-Margaret, in Ft. Lauderdale. Because of Brian's passion for all things orchid, he and Mary-Margaret formed Blu Llama Orchids, Inc. Brian and Mary-Margaret now reside in Naples, Florida with their cats and their ever expanding orchid collection.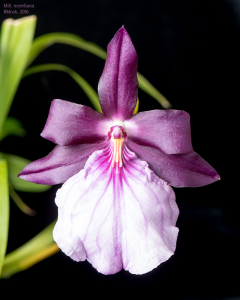 Brian started growing orchids at age 14, and started hybridizing orchids in his backyard. This has recently expanded to 3000 square feet of new greenhouse space. He will grow anything green, but focuses on his hybridizing projects, which include the development of multi-floral white and pink Paphiopedilums, warmth-tolerant intergeneric Oncidiinae, and a standard pink Cattleya with an all-white lip.
Brian's photography has won awards online, in the 2007 Miami International Orchid Show, and at the 2008 World Orchid Conference. His work has been displayed in solo shows at the American Orchid Society headquarters in Delray, and at the Harry P. Leu Gardens in Orlando. Brian has been published in the journal of the International Phalaenopsis Alliance, online, and in the American Orchid Society journal Orchids, where he won the Gordon-Dillon essay prize in 2010.  You can view his work at www.BluLlamaOrchids.com and read his writings on orchids at his blog at www.Wordpress.com.
Encouraged by his wife and inspired by his orchids, Brian continues to pursue and perfect his orchid culture and photographic skills.
---
---