Paul and Mary Storm, "The Fantastic Variety of Schom Hybrids"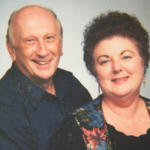 Paul and Mary Storm are hobbyists who have a passion for anything "SCHOMBO" and their nursery in Sarasota, Florida holds what is believed to be the largest collection of Schombo-Laelia and Myrmecophila species and hybrids anywhere.
Paul and Mary are proud that they have been at the forefront of the increasing popularity of Schoms and Schom-Hybrids for almost twenty years. Paul and Mary intend that their programs are entertaining as well as informational and they invite the audience to interact with them.
Paul was a featured presenter at the Mid-America Winter Orchid Conference in Ohio a few years ago, as well as at the Symposium on Orchid Species sponsored by the Coalition on Species at Fairchild Gardens in Miami, the Merritt Huntington Symposium, and the Orchid Extravaganza in Aruba/Curacao.
Paul is the botanical author of several RHS accepted nothogenera and the RHS Registrar has created Stormara, Paulstormara , and Marystormara as new orchid genera. In addition, a few orchid nurseries and hybridizers have registered schombo-hybrids after Paul in honor of Meke Aloha's "Schombo-Mission"

The Storms will provide plants for our raffle table as well as having plants to sell.
(There will be no members auction this month)
Visit their website at (www.mekealohaorchids.com) to see photos of their plants and to pre-order.
(Please note: Cash and checks only, No credit cards.)